There are many different types of Webmasters (and Owners / Developers / Administrators / etc). One thing most of us love is to save money by opting for free services whenever it is possible. You do not always have to pay for high quality services. For example, Google Inc. is one of my favorite high quality free service providers. However, keep in mind that often these services are provided "as it is" without a warranty and for personal website Webmasters and small business owners.
Mobile Computing
This is not so much of a new tread but rather a continuation of the teach bubble. Many personal website owners and increase number of small business owners maintain their sites on the go. This is where smartphones and tablets can be very useful. But, I found keeping things up to date on a website can be a difficult thing to do. Looking out for those unwanted DOS attacks and server downtime can be time consuming. But it doesn't have to be like that because there are tools to keep an eye on your site 24h/7d/year on your mobile device.
Introducing Pingdom
Pingdom is one of the most popular site among Webmasters. They offer wide range of technical tools for monitoring and managing your website. This includes the world famous, the Pingdom Speed Test. While there are two tears for their services (free as well as Pro paid version), for a novice Webmaster with a personal website, their free services are more than adequate. For example, if you want to keep an eye on your HTTP side of your server, you can create a free account and automate that process. This free account also comes with the access to a very well written Android and Apple apps.
The Pingdom mobile app provide critical server information such as outages, uptime and response time. Again, yes for FREE! I use it to keep track on this website. I would specially recommend anyone who is paying for their web hosting to use this wonderful free service. Because if you found that your site is not up 99.9% like some hosting companies claim, you can ask for your money back.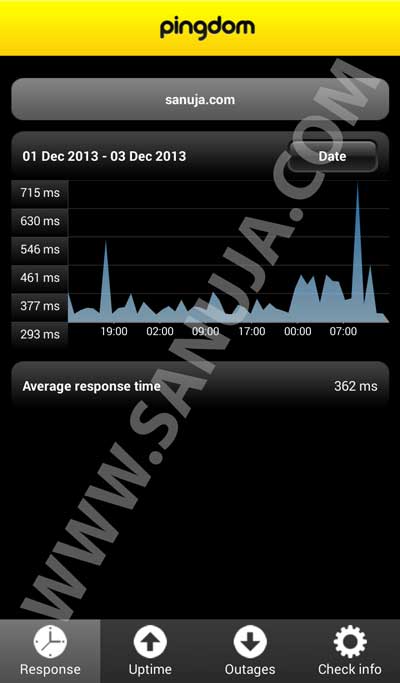 I should also thanks the Pingdom for coming up improved mobile support. Even while I am typing this article they released a new version of their app improving overall quality of presentation.
Google Google Analytics
I use a lot of Google free services. They include great services such as search engine, Google.com/cTLD, Custom Site Search, Google Adsense and other free Webmaster services offered by the company. While I do not have a favorite Google service, I can say Google Analytics is the best tool for monitoring web traffic.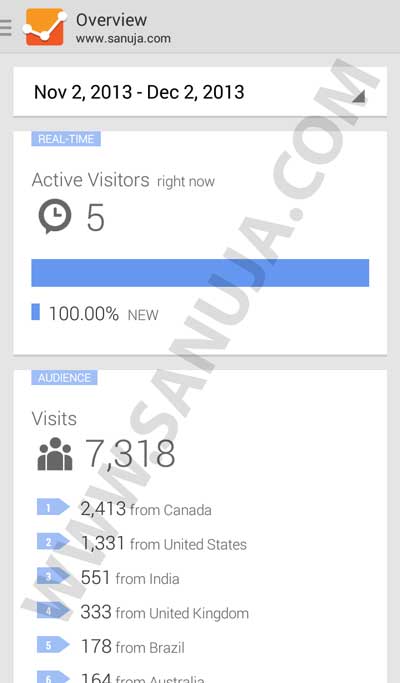 Once you set up a site with with the Analytics tracking code, this mobile application will provide live traffic at your finger tips. Additionally, when used with Google Adsense, you can combine the visitor behaviors with your ad revenues or vice versa. This is a great tool for Webmasters with multiple sites too. You can combine data from several sites into a single app.
Android Terminal Emulator
As the title suggests, this is specifically for people with Android devices. But, this will also work on a Windows phone, tablet or a PC. The term "Terminal" is known as "Command Prompt" in Windows or simply "Terminal" in Linux/Unix.
So how can this be useful? Instead of using an application like Pingdom, you can use the Terminal Emulator to ping your site. Unless you write a script, you can have to manually ping your site(s) each time, one at a time. Therefore, this is a time consuming process for Webmasters with slow older devices. If you find that your phone "hangs" or crashes upon loading the Pingdom app, this is a good solution (although no means it is a prefect solution).
There are many other tools available in the market. I only introduced few of the most basic and generally bugs free items. I would not recommend using paid mobile tools unless you are running a large company. For most average Webmasters, these free applications can be as useful as Calculus to a an Engineer.