I recently came across a textbook, Basic Geological Mapping1, which is written for novice users. I found few interesting things in the introduction chapter that one might argue "kind of odd" for a well-written textbook.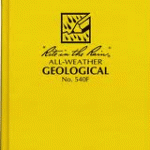 Anyone who wanted to be a Geologist should enjoy working outside. Geologists should respect the environment and the habitat wherever they go. We should always collect specimens only when absolutely needed and should not disturb the site. Appropriate permits and permissions should be obtained prior to go into the field. So far I agree with the author.
Under Ancillary Skills, they explained why swimming and physical health is impotent. Some may say that you do not have to be physically fit in order to work outdoor. But I agree with the authors since most "true" Geologists will work outside with exceptions to lab technicians. There were some odd advices such as the ability to swim and ride animals such as horses. No, I cannot swim and yes, it is a valuable skill. If you are planning to take up carriers that involve the outdoor, I would highly recommend taking swimming and outdoor survival lessons. Aside from you falling into a river or a body of water, you may even have to swim to reach an outcrop.
Well, why would you want to ride animals? The reality is that in remote regions you may come across very difficult terrains. It is sometimes impossible to work without the aid of an animal or a vehicle. Especially in the Canadian Rocky Mountains, it is important that we do our homework before leaving for the site. Even as recently as yesterday (26-March-2013), a man died in the Alberta mountains due to cold and hyperthermia
So to summarize, a Geologist should be…
-able to work outdoors and remote regions of the world.
-able to survive in very difficult terrains.
-skillful in swimming, mountain climbing, horseback riding, etc.
I do not want to discourage anyone from going into the Geological Sciences. But if you are looking for opportunities in a so called "office environment" this is the wrong field of study. Geo science is an application of science foundations such as Chemistry, Physics and Math (and even biology if you go into environmental side). It is very important for you to be flexible in order to work as a Geologist.
These kills are specific to field work. It should be noted a good Geologist is always find the balance between academics and outdoor skills. If you were to overdo one or the other, you would make a lousy professional. You may think something as simple as riding a horse is not impotent, until you end up with a mining company in a middle of nowhere. In order to be successful you must be able to adapt to the the environment.
References: 1. Basic Geological Mapping, Fourth Edition. John W. Barnes with Richard J. Lisle, 2004 John Wiley & Sons, Ltd ISBN: 0-470-84986-X