Index: B | C | E | G | H | K | M | O | P | Q | S | T | Z | Footnotes
A
---
Actinolite
Notes:
–wiki
Andalusite
Notes:
–wiki
Apatite (A)
Notes:
–wiki
B
---
Biotite
Notes:
–wiki
C
---
Calcite/Dolomite
Notes:
–wiki-Calcite
–wiki-Dolomite
Chert
Notes:
–wiki
Chlorite
Notes:
–wiki
Clinopyroxene
Notes:
–wiki
Cordierite
Notes:
–wiki
Cummingtonite
-info here
E
---
Epidote
Notes:
–wiki
G
---
Garnet
Notes:
–wiki
Glaucophane
Notes:
–wiki
H
---
Hornblende
Notes:
–wiki
K
---
K-feldspar
Notes:
–wiki
Kyanite
Notes:
–wiki
M
---
Muscovite
Notes:
–wiki
O
---
Olivine
Notes:
–wiki
Orthopyroxene
Notes:
–wiki
P
---
Plagioclase Feldspar
Notes:
–wiki
Q
---
Quartz
Birefringence: +0.009


Notes:
–wiki
S
---
Sillimanite
Birefringence: 0.016 – 0.023

Notes:
–wiki
Staurolite
Notes:
–wiki
T
---
Tremolite
Notes:
–wiki
Titanite/Sphene (A)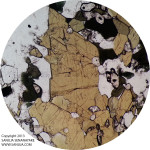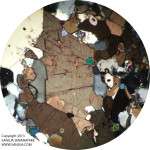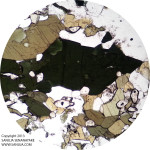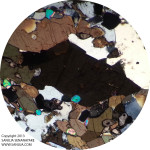 Notes:
–wiki
Z
---
Zircon (A)
Notes:
–wiki
---
Footnotes
A – denotes accessory minerals. Colours under the microscope should be noted both under PPL and XPL.
Extinction angle and Interference Colours (Birofingence) is always observed under XPL. Some minerals such as dolomite verses calcite are difficult to identify without a hand sample. These images are NOT a replacement for hands on lab experience. If you find any errors, please contact me.
You may also reference Mineralogy Media Library.
Technical
Microscope: Nikon H550S
Camera: Samsung 8 MP, 3264×2448 pixels
Date(s): 29-March-2013 to 12-April-2013
Samples: Epoxy has an R.I. of 1.55 +/‐ 0.01; thin sections varies between xx-xx μm
Image Size: 1500 x 1500 pix
File Name: Mineral name, Type of polarity and Thin section number (if more than one image, the file number); For example; min_kyanite_xpl_CK192_2.jpg.
---
---
Disclaimer
While every effort is made to ensure that the content of this website is accurate, the data is provided "as is" and is not intended to be used as a primary reference material. While the lab samples are provided by the University of Calgary, the images on this site are sole property of Sanuja Senanayake. There is no affiliation between the University and sanuja.com. The the accuracy of data is not verified by any entity.
Colour balance issues; since it was extremely hard to calibrate the digital camera to reflect the true colours and due to various other factors, the colours in these images may not be perfectly accurate. For example, the Calcite in PPL suppose to look clear.